Chili Piper
Schedule meetings, capture consent, and record calls with Gong + Chilipiper
About Chili Piper
Chili Piper is the leading inbound conversion software, fueling today's high-growth B2B revenue teams. With instant speed-to-lead, routing, booking, and handoff capabilities, it enables a fast and efficient handoff from marketing to sales. Teams convert more inbound leads while spending less on marketing with Chili Piper.
About the Integration
To comply with local data and privacy regulations, some businesses need to obtain consent before recording a call. Gong and Chili Piper together allow businesses to schedule meetings that automatically ask for consent for recording.
Key Benefits
Smoother business operations
Automate consent capture and trigger workflows post capturing consent to schedule calls
Go through the entire meeting scheduling workflow without worrying about compliance from Day 1.
Businesses that operate in markets where local rules and regulations require them to get manual consent before recording a call. With this integration, businesses can be compliant from Day 1 and avoid any legal traps.
How to Connect
Head over to the Admin Center Integrations page.

Click the Connect button on the Gong app

You will be prompted to log in to Gong and accept the permission scope: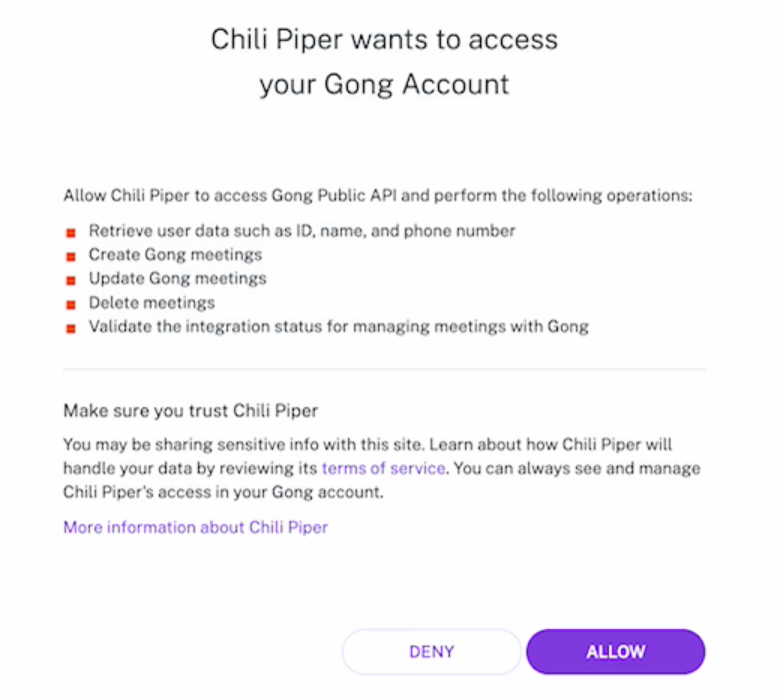 Once you have logged in, you will be redirected back to Chili Piper, and it will say connected!
You can check which users have Gong integration enabled under the Users table in the Admin Center: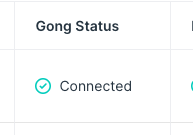 The users listed will automatically refresh periodically, or you can force a new refresh by clicking the "Refresh Users" button within the Integrations page.